Jess & James hair and makeup is the little salon with a big attitude in Tamworth NSW. A KEVIN.MURPHY Gold Key session salon and an Advanced Diploma certified make-up salon that brings all the techniques and fashion forefront to the line. We try to set the bar in artistic expression and editorial styling, as well as be a part of our community and create beautiful hair and make up for anyone who wants to feel that extra bit glam! With a talented team and the right clientele, Jess & James has created a creative playground and a fun but professional atmosphere for every walk of life. Come in and see the team for your hair and make up or call us on 67665352!
Jess Campbell
Director / Salon Owner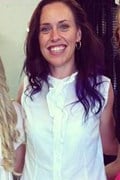 Jess is the salon's leading lady, with a Diploma in Makeup Artistry and many talents and qualifications in Hairdressing to her name, Jess has worked alongside some of the best in our industry and continues to play a vital role in education, training and all the great things that Jess & James has to offer :)
Jess Dillon
Senior Stylist
Creative cutting and colour work is some of the things i really enjoy in hairdressing , it could be any where from beautiful blonds to bright colours . I all so have a passion for makeup and nothing is more satisfying than seeing someone walk out of the salon feeling like new with a smile on their face .
Amber Lahrs
Emily Ball
Jess & James Hair and Makeup
507a Peel Street, Tamworth
0267665352
Tuesday

Wednesday

Thursday

Friday

Saturday

9:00am - 5:00pm

9:00am - 5:00pm

9:00am - 8:00pm

9:00am - 6:00pm

9:00am - 5:00pm